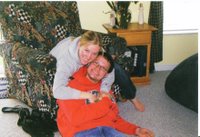 October was an exciting and busy month for us. Joe went to three medical school interviews, I turned a whopping 24 years old and we spent a lot of time with friends and family.
I spent a lot of time working on a paper that I have submitted to Newsweek's
My Turn
column. Certainly they would trim it down if they were going to print it, which I don't anticipate they will, but it's important to me. (Newsweek receives 600 papers for every 4 that they print.) The paper is about stem cell research and how I think it will benefit me and society.
Joe, on the other hand, has just had a paper accepted for publication in
Pediatrics
which he describes as the BEST pediatric medical journal. This is very exciting news because a published scientist (aka Joe) is much more respected than a non-published scientist (aka Joe yesterday). Not to mention the whole world will now have the opportunity to learn about their ground breaking research on non-chemical treatments for head lice.
So far, Joe has interviewed at Tulane, Drexel and Dartmouth. Of the three schools he seems most excited about Dartmouth. Dartmouth is a top 15 medical school in a semi-rural area right next to some of the nations most exciting cities (aka: Boston, New York, etc.) One interesting fact about the medical school: it's founder was the surgeon who performed Joseph Smith's famous leg surgery. We're also excited about Joe's upcoming UCLA interview. The likeliood of getting accepted after an interviewis about 8-15% (depending on the school). At the same time though, Joe is an amazing person and everyone who meets him can usually tell right away - - so we try not to think about the dismal statistics.
Joe's brothers and sisters have had very exciting month's as well. Peter got baptised on Saturday, November 5 (the same day I got baptised many years ago). And Aliza recently got engaged to a young man named Tobi! We're glad all of these exciting things have taken place!
I've got a plethora of new books to read thanks to my recent birthday and the library's bi-annual book sale. I've recently read all 6 Harry Potter books and Amy Tan's new book called Saving Fish from Drowning. This was a very interesting book which followed 11 travelers who are "kidnapped" in Myanmar/Burma. If you like traditional Amy Tan this probably isn't the book for you, however if you're interested in human rights and/or politics you would probably like the book a lot.